Black Hills Spirit of Volunteerism Awards
Black Hills Spirit of Volunteerism Awards Luncheon
Tuesday, May 2, 2017
Best Western Ramkota Hotel and Convention Center
Click Here for Spirit of Volunteerism Award Luncheon Tickets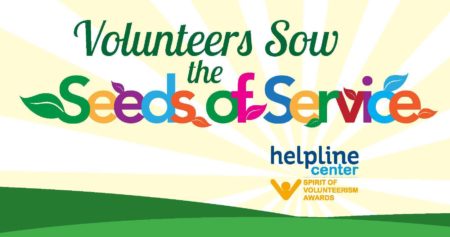 The Spirit of Volunteerism Awards luncheon will be held annually by the Helpline Center to honor outstanding volunteers in the Black Hills area. Winners will be selected by a panel of judges in categories including Youth, Group, Adult, and Corporate Humanitarian. All nominees will be recognized and honored at this event and winners will be announced live! At the event, we will also honor our 12 Volunteers of the Month Winners.
Nomination Form
Nominations are now closed for the 2017 Spirit of Volunteerism Awards.
Award Categories
Corporate Humanitarian Awards. Presented to a corporation or a business for its outstanding volunteer involvement and support. One winner will be announced.
Youth Award. Nominees must be 18 or younger.
Adult Award. Two award divisions will honor adult nominee, 19 or older.
Up and Coming Volunteer Award (19 to 39)
Shining Bright Adult Award (40 and older)
Group Award. Nominees must include two or more individuals.
Volunteer of the Month. Each month the Helpline Center partners with Black Hills Urgent Care, a division of the Black Hills Surgical Hospital to honor the community-wide volunteer of the month. These individuals are nominated by non-profits in the Black Hills. Click Here for a complete list of winners.
Thank you to our event sponsors!
Black Hills Energy, BankWest, Scull Construction, Black Hills Urgent Care,
Midco and Regional Health
2016 Winners

Helpline Center is pleased to announce that 70 individuals, groups and businesses were nominated for 2016 Spirit of Volunteerism Awards. Click here for winners!