Volunteer of the Month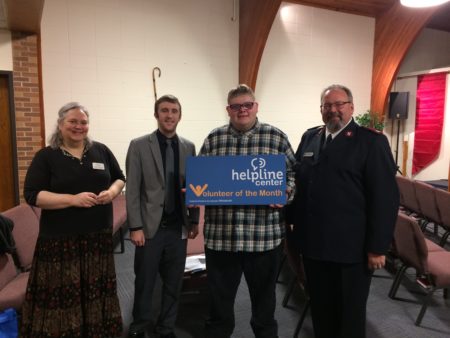 Pictured: (L to R) Barb Ebeling, Helpline Center; Ethan Moxnes, MetaBank; James Schmidt, February Volunteer of the Month; Major Tom Riggs, The Salvation Army.

February Volunteer of the Month Celebrated
The Helpline Center congratulates James Schmidt on being named the February 2017 Volunteer of the Month, an area-wide award program sponsored by the Helpline Center and MetaBank.
James volunteers almost every day of the week at The Salvation Army and helps with what needs to be done. He bags bread, empties the trash, vacuums, washing windows, sets tables for the senior neighbor program, washes tables and chairs after events. He even keeps an eye on the children who are there when their parents are seeking assistance from a social service caseworker. The second Thursday of each month he also helps deliver senior food boxes in Lincoln and Minnehaha counties.
Staff at The Salvation Army stated, "James has a heart as big as the plains and is kind to everyone."
James started in the summer of 2015. He volunteers regularly unless he has a medical appointment. Last fall and winter he completed his senior year at Washington High School.
The Helpline Center and MetaBank are pleased to present James with a framed certificate, a gift from MetaBank and a letter of appreciation from Mayor Huether. We will also honor James again at the Spirit of Volunteerism Awards banquet on May 11, 2017.
For information on volunteer opportunities please call the Helpline Center at 211 or visit www.helplinecenter.org.