Volunteer of the Month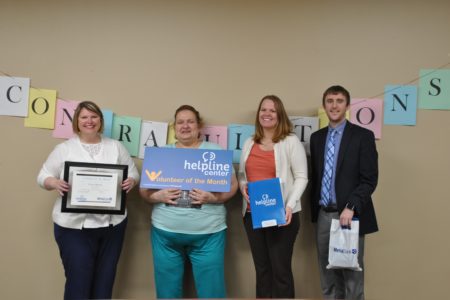 Pictured (L to R): Sarah Jo Jorgensen, Independent Living Choices; Donna Miranda, May Volunteer of the Month; Susie Ryks, Helpline Center; Ethan Moxnes, MetaBank
May Volunteer of the Month Celebrated
The Helpline Center congratulates Donna Miranda on being named the May 2017 Volunteer of the Month, an area-wide award program sponsored by the Helpline Center and MetaBank.
Donna volunteers as a Peer Visitor volunteer for Independent Living Choices. She provides peer support to individuals with disabilities via phone, email, or in-person visits. Donna has been a Peer Visitor volunteer with our agency for since 2012.
Sarah Jo Jorgensen from Independent Living Choices stated, "Donna goes above and beyond for this program. Each volunteer is required to contact each of their participants once per month. Donna contacts her participants regularly, sometimes on a daily basis. She is an ambassador for the program, always telling people about Independent Living Choices and our programs. She keeps in close contact with our staff and updates us about her participants regularly. She is always willing to accept new referrals and loves what she does. We are so lucky to have Donna as a part of the peer support program!"
The Helpline Center and MetaBank are pleased to present Donna with a framed certificate, a gift from MetaBank and a letter of appreciation from Mayor Huether. We will also honor Donna again at the Spirit of Volunteerism Awards banquet on May 11, 2017.
For information on volunteer opportunities please call the Helpline Center at 211 or visit www.helplinecenter.org.
2017 Volunteer of the Month Winners
2016 Volunteer of the Month Winners
2015 Volunteer of the Month Winners