Step Forward to Prevent Suicide – Brookings, SD Saturday April 29, 2017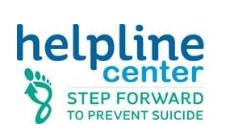 Step Forward to Prevent Suicide
\Saturday April 29th – Brookings, SD
Partnership with SDSU Campus organization:
Lost and Found
1.5 mile walk and 5K run events beginning with registration at 8:30
Walk and run events begin at 9:00 at the SDSU Student Union
Our community and state continue to experience the loss of our family and friends to suicide. We can all help by Stepping Forward to make a difference. There is Help and Hope through raising awareness about suicide and funding prevention programs.
Step Forward offers a 1.5 mile walk, 5K run and remembrance ceremony. The event raises awareness and support for the Helpline Center's local suicide prevention services and survivor support programs. 100% of proceeds stay local.
Step Forward to Prevent Suicide events are also held in Sioux Falls, Yankton with a partnership with Bridging Yankton and Pierre through a partnership with Avera St. Mary's Foundation.
Join us to make a difference on Saturday April 29, 2017 in Brookings on the campus of SDSU.