Citi Youth Leadership Awards 2017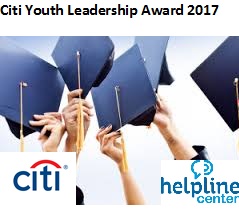 Citi Youth Leadership Awards 2017
Citi and the Helpline Center are pleased to announce six $1,000 Citi Youth Leadership Awards will be given in 2017. These scholarships will go to six Sioux Empire area seniors involved in community service.
The Scholarship Application is available in a Word Document or as a PDF.
The basic requirements for applicants are:
¨ Must be a senior at a Sioux Empire high school during the 2016-2017 academic year
¨ Must have contributed at least 100 hours of service within the past 12 months
Eligible service may include: service with community/religious organizations; service through school/community based service-learning projects or individual efforts to help others and/or improve the community. This service cannot include fundraising, lobbying, or paid/stipend service.
Students seeking an award will be asked to fill out a nomination form and write an essay on their volunteer service. A panel of judges will evaluate the nominee essays. The winners will be notified by the Helpline Center. The awards will be presented to the students on Thursday, May 11th at the Spirit of Volunteerism Awards Banquet, hosted by the Helpline Center.
Students should submit the completed application to the Helpline Center office no later than 5:00 pm on March 20, 2017.