Volunteer Sioux Falls
Volunteer Sioux Falls has grown from a single day of service to three service events annually. The Helpline Center will lead these community-wide events, encouraging individuals, families, churches, civic groups and companies to get involved in a volunteer project each February, September and December.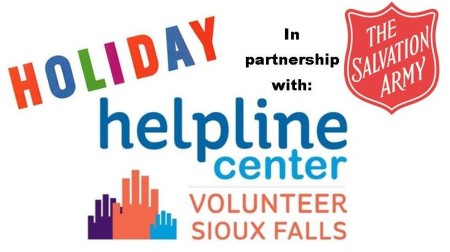 Come help out during
Holiday Volunteer Sioux Falls!
Helpline Center is implementing a new Volunteer Sioux Falls project in December. One of the Sioux Empire's unmet needs for 2014 was holiday meal baskets at Christmas. To help meet this need, the Helpline Center has partnered with The Salvation Army and will be holding a Holiday Volunteer Sioux Falls event December 7th – December 10th. Volunteers will assist with the Christmas basket interviews, collecting food donations, delivering the senior food commodity boxes, and Christmas basket distribution.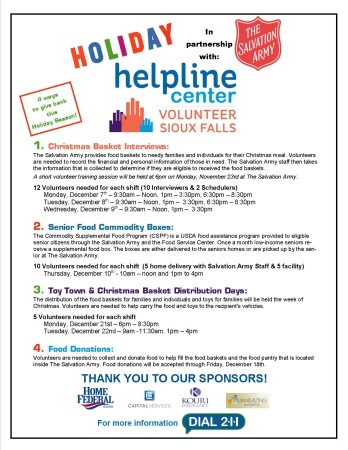 2015 Event Recaps:
Volunteer Sioux Falls 2015 Schedule
Wednesday February 11, 2015 – National 211 Day
Service projects at the Non-Profit Center
 Saturday, September 19, 2015 – Volunteer EXPO
Volunteer fair and hands-on projects at Washington Pavilion
December 7 – 10, 2015 – Holiday Volunteer Sioux Falls
Holiday volunteer projects at The Salvation Army
For more information, please dial 2-1-1
 Thank you to our Volunteer Sioux Falls Sponsors

who make these events possible!