Sioux Empire Spirit of Volunteerism
Sioux Empire Spirit of Volunteerism Awards Luncheon
Thursday, May 11, 2017
Sioux Falls Convention Center
Click Here for Spirit of Volunteerism Awards Luncheon Tickets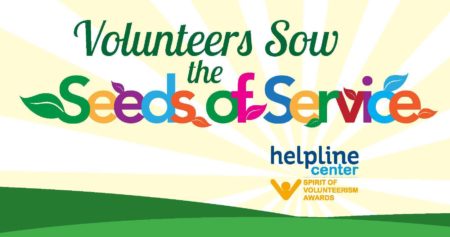 The Spirit of Volunteerism Awards luncheon is held annually by the Helpline Center to honor outstanding volunteers in the Sioux Falls area. Winners are selected by a panel of judges in categories including Youth, Group, Adult and Corporate Humanitarian.
Nomination Form
Nominations are now closed for the 2017 Spirit of Volunteerism Awards.
Award Categories
Youth Award. Nominees must be 18 or younger.
Adult Award. Three award divisions will honor adult nominee, 19 or older.
Up and Coming Volunteer Award (19 to 39)
Shining Bright Adult Award (40 to 60)
Lifetime Volunteer Award (over 60)
Group Award. Nominees must include two or more individuals.
Corporate Humanitarian Awards. Presented to a corporation or a business for its outstanding volunteer involvement and support. Two winners will be announced; one award for a business with less than 100 employees and one award for a business with 100+ employees.
Citi Youth Leadership Awards
The Helpline Center is pleased to be accepting applications for the Citi Youth Leadership Awards, a scholarship program for Sioux Empire area seniors involved in community service. Citi, the sponsor of the scholarships, will award six $1,000 scholarships in 2017. Click Here for more information!
Volunteer of the Month
Each month the Helpline Center partners with MetaBank to honor the community-wide volunteer of the month. These individuals are nominated by non-profits in the Sioux Empire. Click Here for a list of winners.
Thank you to our event sponsors!
MetaBank, Independent Insurance Agents of Sioux Falls,
First Premier Bank – Premier Bankcard, First National Bank in Sioux Falls,
Children's Dental/Parkway Orthodontics, Citi, EarthBend, Midco
2016 Winners
In 2016, 106 individuals, groups and businesses were nominated for the Spirit of Volunteerism Awards. Click Here to view the winners!
2016 Photos

2015 Winners
Over 530 area community leaders, non-profit agency representatives and business people turned out to honor the 2015 Spirit of Volunteerism Award winners. 103 honorees and nominees were celebrated at the event. Click here to view a complete list of 2015 winners.
Event Photos
Nominee and Honoree Photos

#SVA2015 Photos