Sioux Empire Spirit of Volunteerism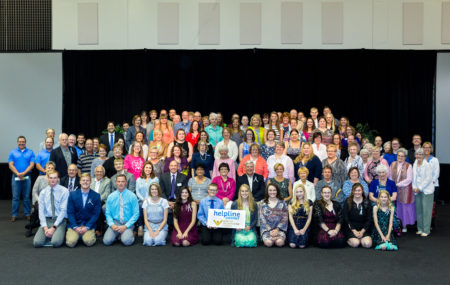 2017 marked the 35th year the Helpline Center has presented volunteer appreciation awards. More than 580 people, including local community leaders, non-profit agency representatives and business executives, turned out Thursday, May 11, for the 2017 Spirit of Volunteerism Awards. The Helpline Center hosted the luncheon at the Sioux Falls Convention Center. During the event, 80 nominees, honorees and award winners were recognized.
The Spirit of Volunteerism awards are made possible through the generous support of Midco, Independent Insurance Agents of Sioux Falls, Children's Dental Center and Parkway Orthodontics, The First National Bank in Sioux Falls, First PREMIER Bank/PREMIER Bankcard, EarthBend, MetaBank and Citi.
The 2017 winners are:
Youth Category: Gabrielle "Ellie" Dahm, for her volunteer work at LifeScape.
Adult Up and Coming Category: Jake Wampler, for his volunteer work with Good Samaritan Society – Luther Manor.
Adult Shining Bright Category: Patti Graber, for her volunteer service to the Alpha Center.
Adult Lifetime Category: Jean Beddow, for her service to children as a Court Appointed Special Advocate and her volunteer work with Salvation Army.
Group Category: Bread Break, for its work collecting and supplying food to agencies throughout Sioux Falls.
Corporate Humanitarian (large business) Category: Texas Roadhouse, for its work helping the Community Blood Bank and Special Olympics South Dakota.
Corporate Humanitarian (small business) Category: Eide Bailly, for its work with the Habitat for Humanity Neighborhood Revitalization Program.
Citi also presented the Citi Youth Leadership Awards at the event. Six high school students received $1,000 scholarships in recognition for their community involvement:
Gabrielle Dahm, Lincoln High School
Isabella Eveleth-Jensen, Roosevelt High School
Caleb Impecoven, Aquinas Classical Academy
Sydney Rodman, Washington High School
Logan Slack, Viborg-Hurley High School
Jacqueline Wolles, Dell Rapids St Mary
The following MetaBank Volunteers of the Month were also recognized:
June 2016, Pat Humphrey, nominated by Senior Companions of South Dakota
July 2016, Herb Doll, nominated by The Outdoor Campus
August 2016, Jeff & Jan Oltman, nominated by Center of Hope
September 2016, Dorene Cink, nominated by Alpha Center
October 2016, Southeastern Directions for Life, nominated by Lunch Is Served
November 2016, Berneice Johnson, nominated by Sanford USD Medical Center
December 2016, Sandy Keeley, nominated by Nominated by Avera@Home Hospice
January 2017, Jeff Goff, nominated by Big Brothers Big Sisters of the Sioux Empire
February 2017, James Schmidt, nominated by The Salvation Army
March 2017, Denny Brown, nominated by Washington Pavilion of Arts & Science
April 2017, Larry Petersen, nominated by Avera Prince of Peace
May 2017, Donna Miranda, nominated by Independent Living Choices
The Helpline Center's Volunteer Connections Program provides the community with ways to connect with volunteer opportunities as well as offer non-profit organizations volunteer recruitment assistance and support for volunteer managers. To learn more go to volunteer.helplinecenter.org or dial 211.
Thank you to our event sponsors!
MetaBank, Independent Insurance Agents of Sioux Falls,
First Premier Bank – Premier Bankcard, First National Bank in Sioux Falls,
Children's Dental/Parkway Orthodontics, Citi, EarthBend, Midco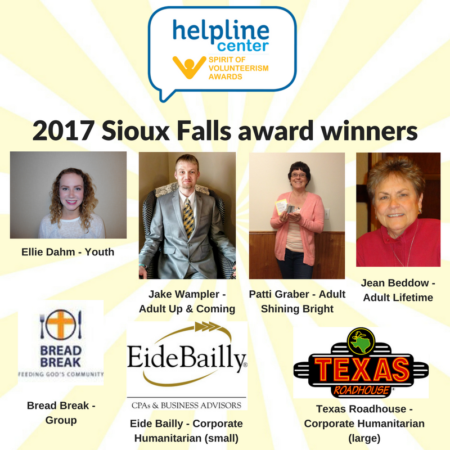 2017 Photos
Nominee and Honoree Photos
Winner and Event Photos