Black Hills Volunteer of the Month named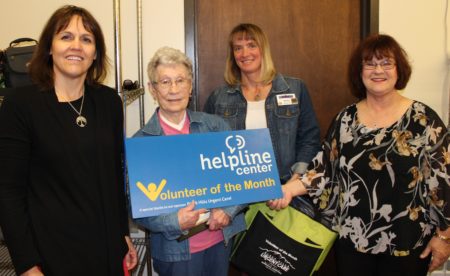 Pictured are Lynn Taylor Rick of the Helpline Center, Mill Laue, May Volunteer of the Month, Kathy Lees of Black Hills Urgent Care, and Cheree Pederson of Meals on Wheels Western South Dakota.
Helpline Center names May Volunteer of the Month
The Helpline Center and Black Hills Urgent Care are pleased to announce that Millie Laue has been named the May 2017 Volunteer of the Month.
The Volunteer of the Month program is sponsored by the Helpline Center and Black Hills Urgent Care, a division of Black Hills Surgical Hospital. Volunteer of the Month recognizes outstanding individuals who make the community stronger through volunteerism.
Laue was nominated by the Meals on Wheels Western South Dakota program, where she has volunteered to deliver meals to homebound seniors for the past 21 years. In her 21 years of service, she has delivered more than 1,000 routes and served more than 13,000 seniors.
Cheree Pederson, who nominated Laue, said Laue is 88 years old and continues to deliver a route each week. Pederson wrote, "In the short time that I have had the pleasure of knowing Millie, she continues to go above and beyond, never complaining about the weather the size of her route or delivering additional meals when needed.
"Millie has befriended many of the seniors she has gotten to know over the years. In one particular case, a senior with no family, Millie often drove to doctor appointments, hair appointments and shopping when needed. Millie continues to visit this senior, who is now blind and in a nursing home. Millie helped her celebrate her 100 birthday by taking her a birthday cake and lunch from a favorite restaurant where they often ate together."
Helpline Center and Black Hills Urgent Care presented the Laue with a framed certificate and Helpline Center T-shirt, gifts from Black Hills Urgent Care and a letter of appreciation from Rapid City Mayor Steve Allender. The Helpline Center will also recognize Laue at the Spirit of Volunteerism Awards banquet on Tuesday, May 2, 2017, at the Best Western Ramkota/Minervas.
For information on volunteer opportunities, please call the Helpline Center at 211 or visit www.helplinecenter.org
Nominations are now being taken for the 2017-2018 Volunteer of the Month cycle. To nominate, click here.
2016-2017 Volunteers of the Month Winners