Black Hills Volunteer of the Month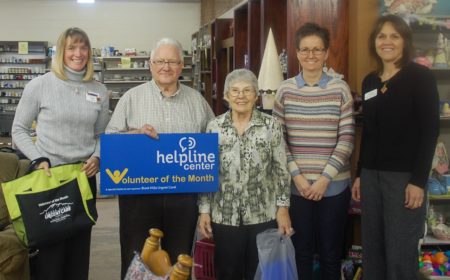 Pictured are Kathy Lees of Black Hills Urgent Care, Keith and Albert Schulte, the March Volunteers of the Month, Deb Berg with Cornerstone Rescue Mission, and Lynn Taylor Rick of the Helpline Center.
Helpline Center names March 2017 Volunteer of the Month
The Helpline Center and Black Hills Urgent Care are pleased to announce that Alberta and Keith Schulte have been named the March 2017 Volunteers of the Month.
The Volunteer of the Month program is sponsored by the Helpline Center and Black Hills Urgent Care, a division of Black Hills Surgical Hospital. Volunteer of the Month recognizes outstanding individuals who make the community stronger through volunteerism.
The Schultes were nominated by Cornerstone Rescue Mission, where they volunteer in the Cornerstone Thrift Store. The couple has volunteered with the Thrift Store for the past seven years, often volunteering five days a week. Alberta volunteers to sort and prepare household items for sale while Keith cleans and prepares electronics that have been donated.
Cornerstone Volunteer Coordinator Deb Berg, who nominated the Schultes, wrote, "Keith and Alberta are such a wonderful couple. They are so dedicated to Cornerstone. They are cheerful, caring and just delightful people to be around. They are truly part of the Cornerstone family and we are so lucky to have them."
Helpline Center and Black Hills Urgent Care presented the Schultes with a framed certificate, gifts from Black Hills Urgent Care and a letter of appreciation from Rapid City Mayor Steve Allender. The Helpline Center will also recognize the Schultes at the Spirit of Volunteerism Awards banquet on Tuesday, May 2, 2017, at the Best Western Ramkota/Minervas, Rushmore Room.
For information on volunteer opportunities, please call the Helpline Center at 211 or visit www.helplinecenter.org
Nominations are now being taken for the 2017-2018 Volunteer of the Month cycle. To nominate, click here.
2016-2017 Volunteers of the Month Winners